Paints and Glazes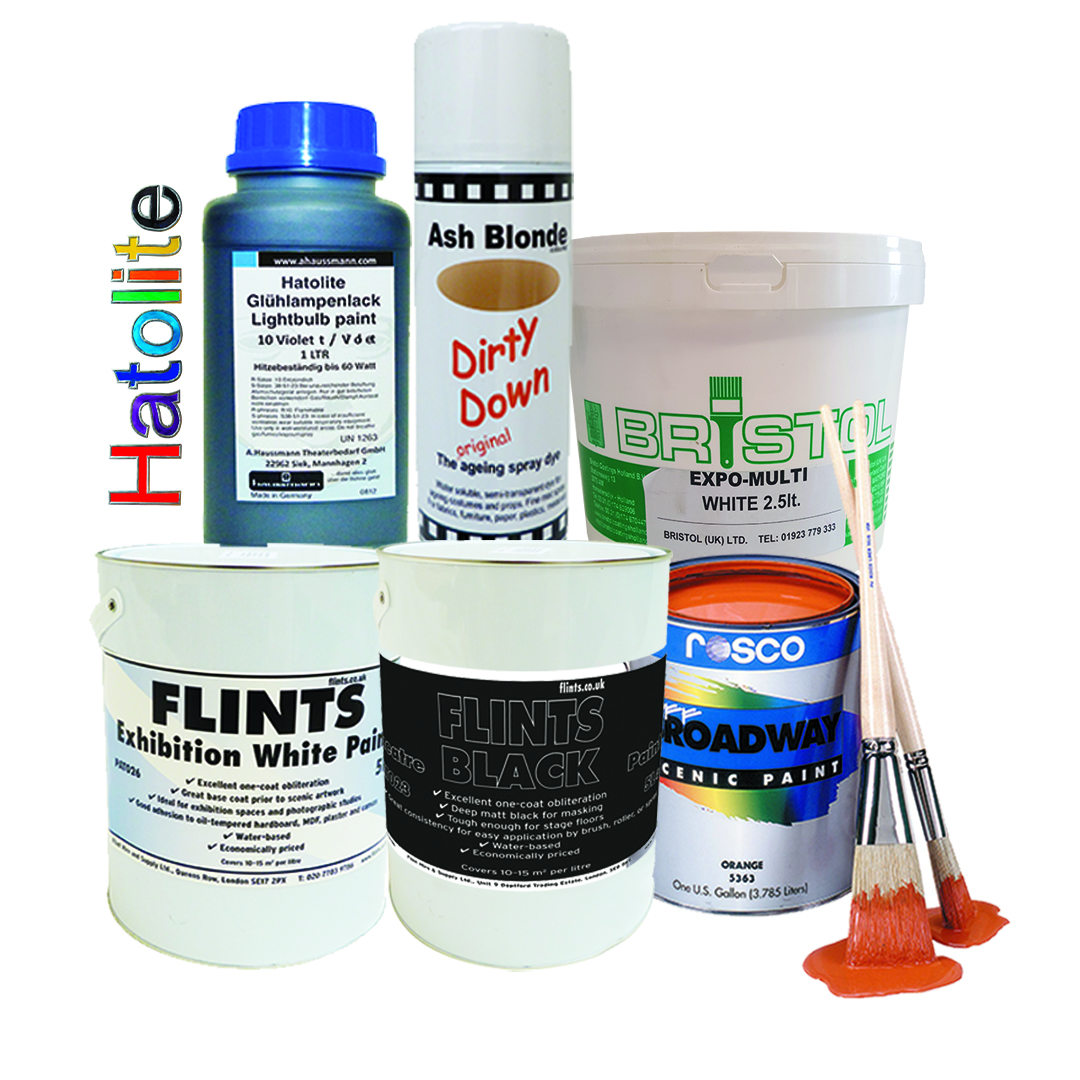 This section is a one-stop-shop for any scenic artist. Our colossal selection of paints, dyes, primers, glazes, glitter, textures and fillers is guaranteed to suit the needs of any scenic artist. We test all our paints vigorously, so you can trust us to give expert advice based on experience, and not rely on promotional literature from manufacturers. We also have a full arsenal of paint brushes, rollers, and spray guns so you can apply our paints and textures in whichever way suits you best.

If you are interested in learning more about the wide range of products we stock, and the brands we hold, please visit our UK website, or view our pdf catalogue.
>> Click here to visit the online shop
Key Product Categories:
Basecoat - Black Paint and White Paint
Since the introduction of Flints Theatre Black after the closure of Bolloms it has soared in popularity and is now one of our biggest selling products. The reason it is so popular is that it's specially made to suit the exact requirements of the entertainments industry, but unfortunately does not come in that famous blue and white striped tin.
Another popular product in this category is Flints Exhibition White paint, which has been formulated especially for use in studios, theatres and exhibition spaces. It is particularly useful where the requirement is for an easy flowing, high obliteration matt white paint which will normally cover most backgrounds with just one coat! Please don't confuse this quality, specially formulated, industrial paint with domestic paint. Flints Exhibition White is impressively fast and smooth to apply by brush, roller or spray while achieving staggering coverage and labour saving obliteration.
Glitter and Glitter Paints
If you're looking to sprinkle a bit of magic over your sets or stages, look no further than Flints glitter and glitter paints. We can supply glitter in a range of sizes and colours, providing superior coverage. After numerous requests to add a biodegradable glitter to our range, we are also proud to offer a quality Bioglitter that is indistinguishable from traditional plastic glitter - except that its 92% plastic free!
If you're looking for all-in-one application, Bristol Glitter Palette is exciting range of water based decorative paints made from sparkling glitter particles suspended in a strong clear glaze. A single coat thinly applied will allow the base colour to shine through while a thicker layer, or several coats, will form a solid glittering surface.
Spray Paint
Whether you're looking for matt paint, gloss paint, frosting or fluorescent, Flints offer a range of aerosol spray paints that are suitable for application onto a wide variety of surfaces, including aluminium, fibreglass, glass, iron, masonry, metal, paper, papier maché, plastic, steel, stone, terracotta, wicker & wood. Many of these items are also supplied in a Twist & Lock can, so there are no more lost lids!